Assistant Professor of English Will Murray is hosting Friday's Literature and Language Over Lunch! Reserve your spot by emailing
Hendrix-Murphy@hendrix.edu
to hear his talk, "Healing the Wound: Race and Memory in Southern Fiction." Lunch provided. Vegetarian options available!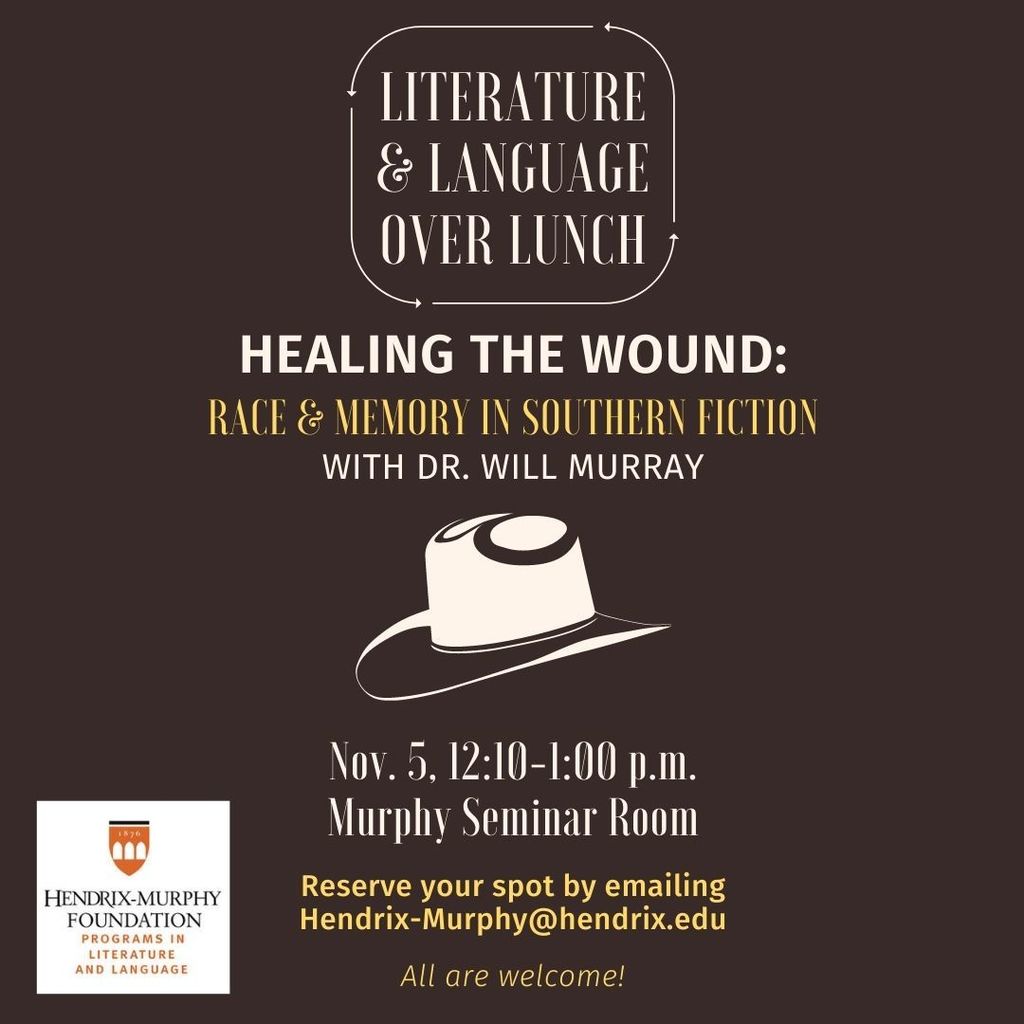 Students! Join us this Thursday, Nov 4 from 8 to 9 p.m. for Word Garden. This month's reading features Logan Ingram, Alysse Robinson, Anna Bivens, and Nat Hart with Clementine Jensen presenting original works of poetry, fiction, and creative nonfiction. All are welcome!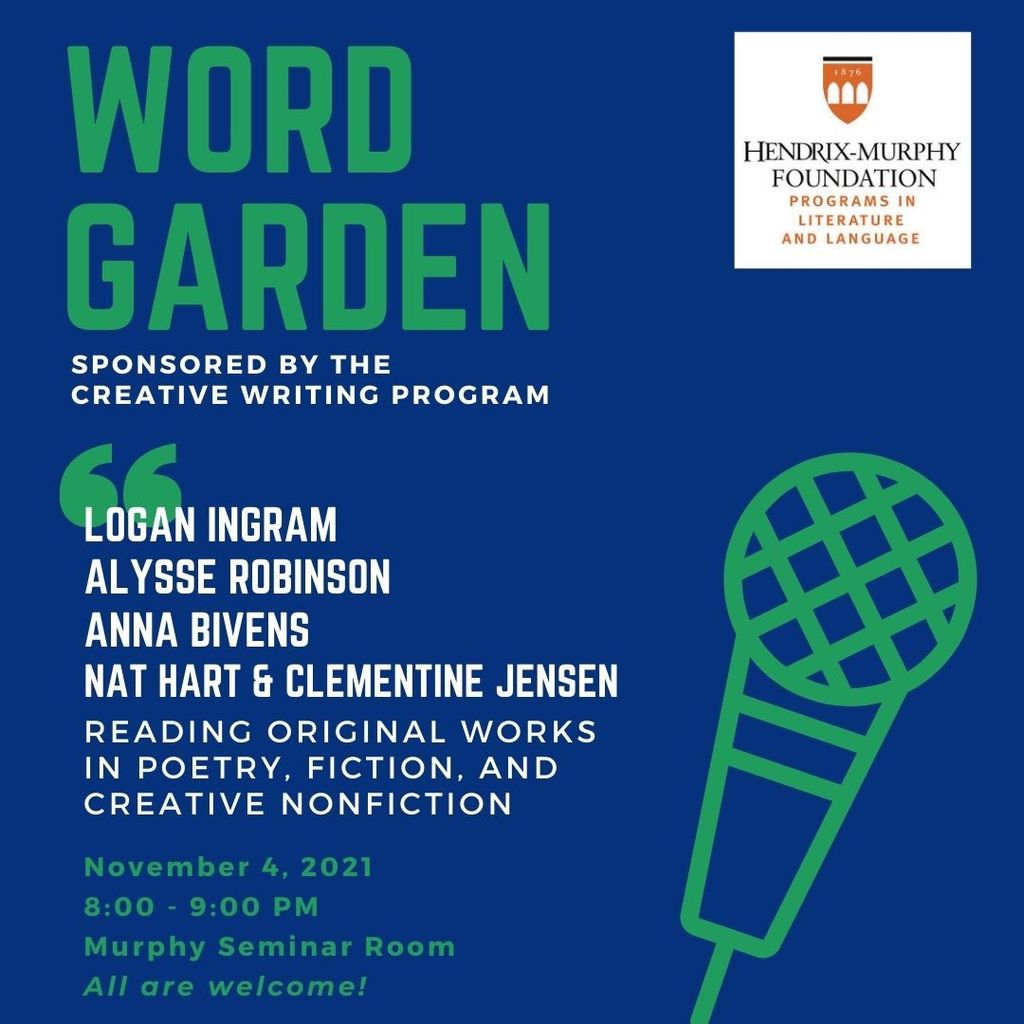 Join Hendrix-Murphy and the Organization for Latino Expressions for a special two-day event celebrating Dia de los Muertos! To reserve your spot and learn more about the event, go to
https://bit.ly/2ZtyuUr
or email
yuste-alonso@hendrix.edu
.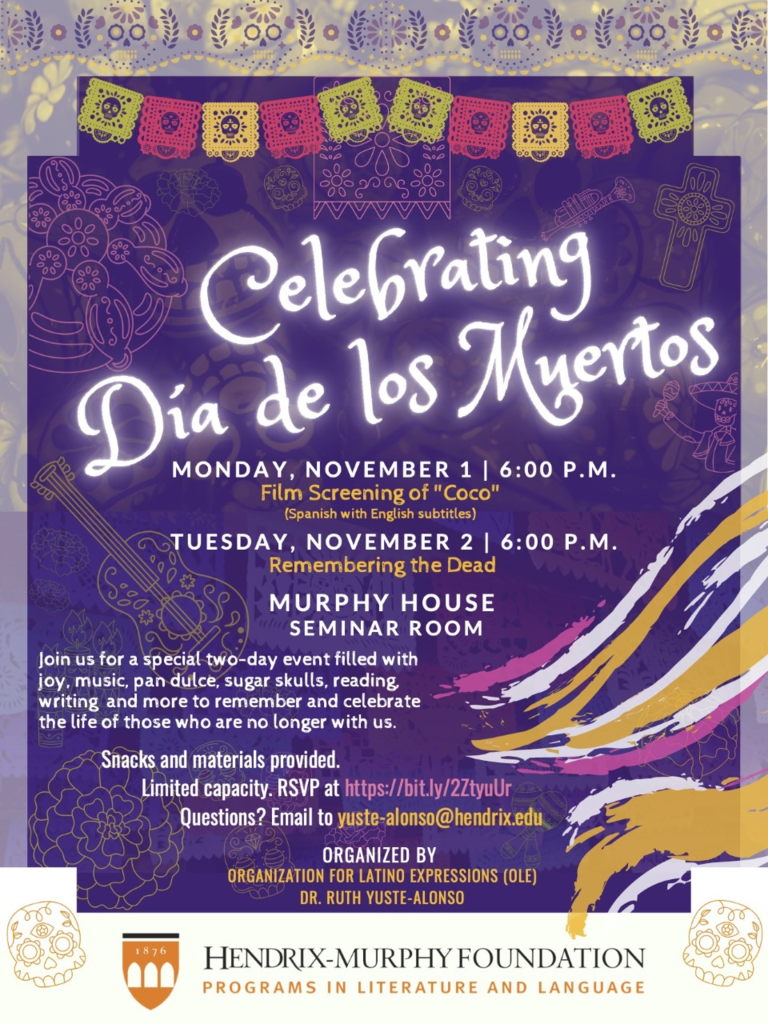 Students, don't miss our upcoming Literature and Language Over Lunch with National Geographic writer and editor duo, Mel White and Lynn Addison! Email
Hendrix-Murphy@hendrix.edu
to reserve your spot this Friday, Oct 29.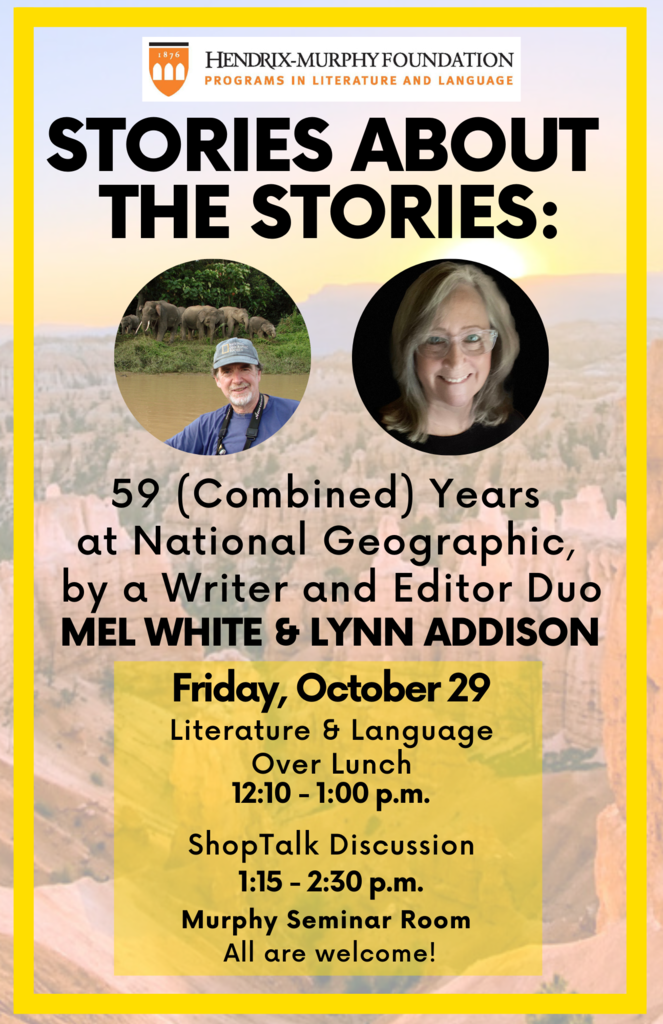 We are hiring! Hendrix-Murphy is looking for a Visiting Fellow in Literature and Language for Theatre Arts (Playwriting). For details on the position and how to apply, see
https://jobapply.page.link/du99
.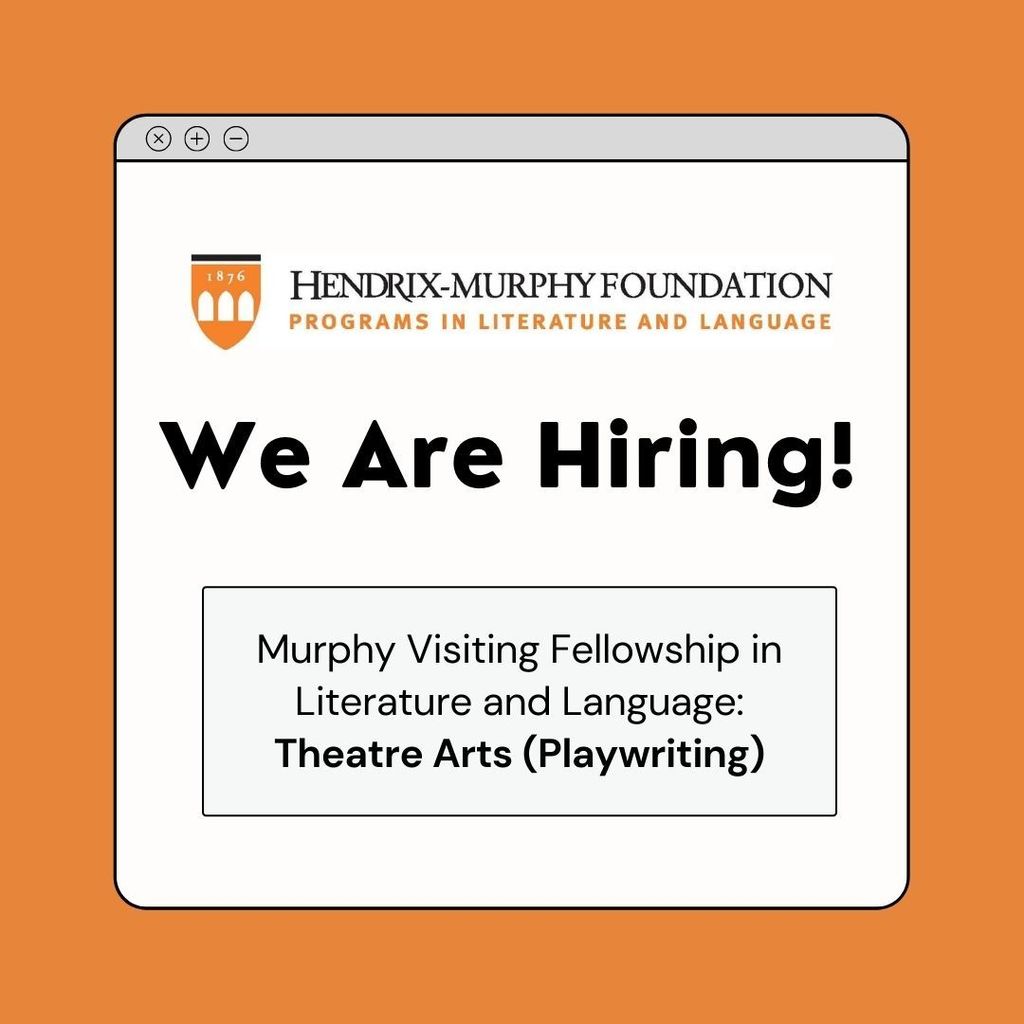 Join us on Tuesday, October 26, at 7:30 p.m. in Reves Recital Hall for An Evening with Writer-in-Residence Frederick McKindra. McKindra is an essayist and fiction writer who lives in Little Rock, Arkansas. He attended Howard University and holds an MFA in Fiction Writing from The New School in New York City. McKindra, who was named a Buzzfeed Emerging Writer Fellow in 2017, often writes about the Black and LGBTQ+ experience in the American South, and his writing appears in the Oxford American, Lambda Literary, and Buzzfeed. In Fall 2021, as Hendrix's Writer-in-Residence, he is teaching a course on personal essay writing for the web.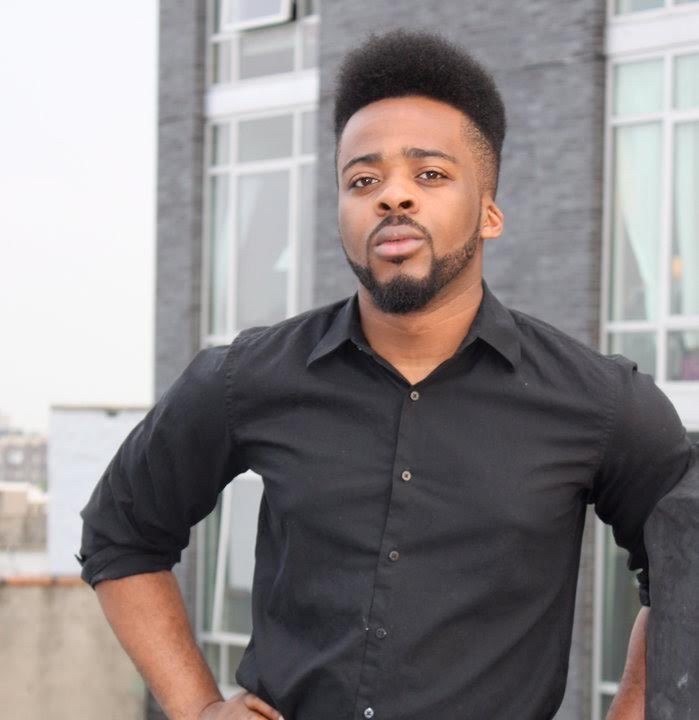 Earlier this month, Hendrix-Murphy hosted its first Word Garden of the semester! Thank you to our student readers Colin Jenkins, Hannah Samuel, Grace Durand, and Peter Grant along with all those who attended to celebrate these student works.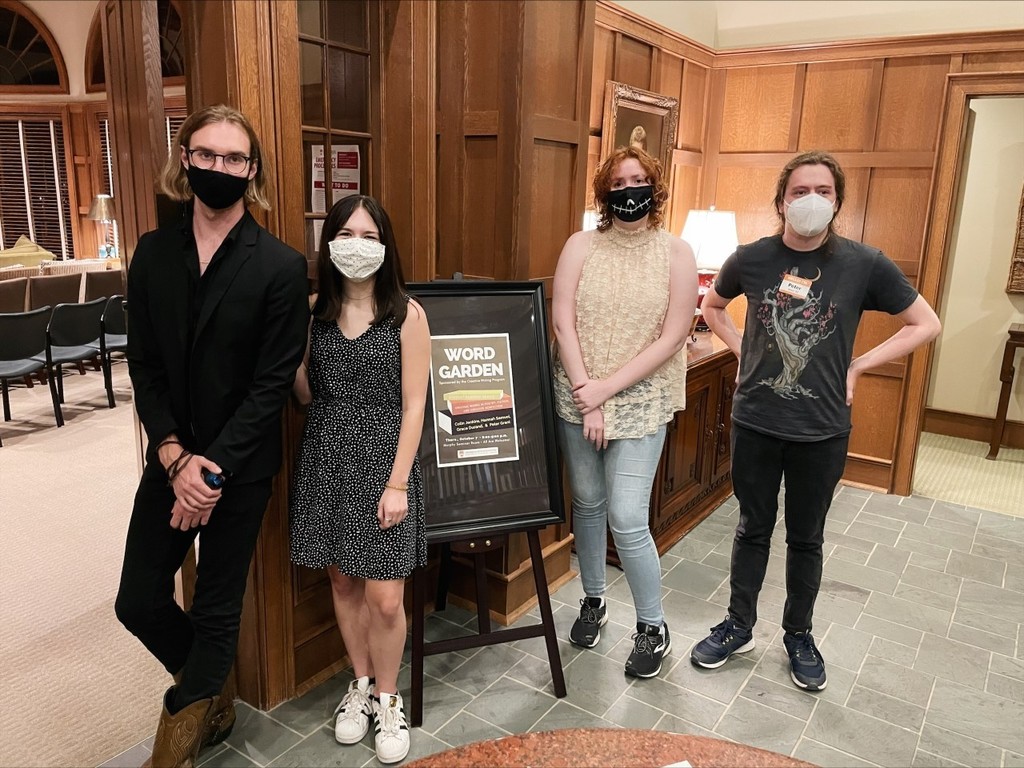 Interested in English graduate programs? Hendrix College Career Services is hosting the University of Arkansas to discuss their program this Thursday, October 21, from 11:00 a.m. - 1:00 p.m..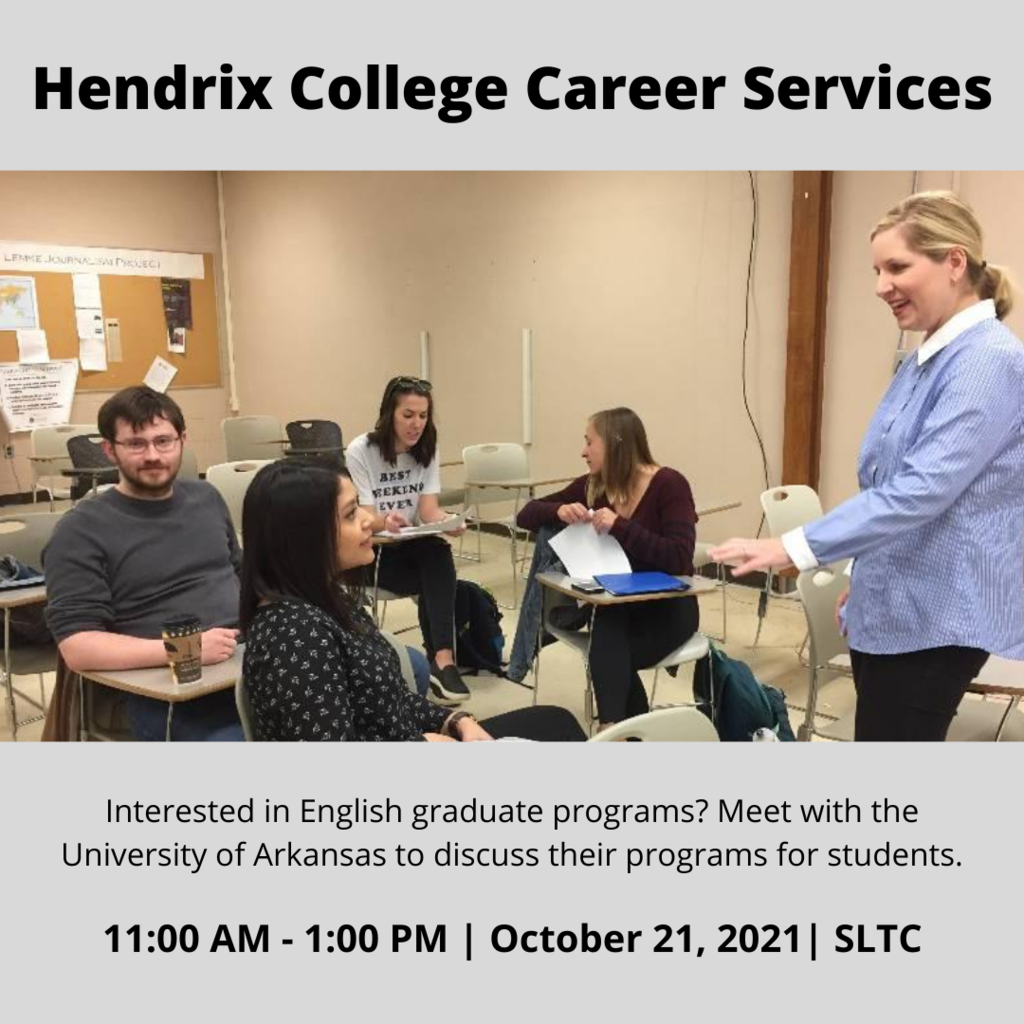 In honor of National Hispanic Heritage Month, Hendrix-Murphy celebrates the contributions of Hispanic and Latino American voices in literature. Previous Murphy Visiting Writer Luis Alberto Urrea is a passionate and prolific writer who urges readers to break down borders instead of building up walls. Born in Tijuana to a Mexican father and an American mother, Urrea was raised in San Diego. "Growing up divided in half by a barbed wire fence has made me see a border everywhere I turn," Urrea says of the way his dual-culture background informs his writing on the border. "I don't like fences. I do like bridges. So I'm not really a border writer. I'm a bridge builder." A 2005 Pulitzer Prize finalist for nonfiction and member of the Latino Literature Hall of Fame, Urrea is the critically acclaimed and best-selling author of 17 books, winning numerous awards for his poetry, fiction and essays.

Students, want to know what it's like to work in the publishing industry? Meet with literary agent Natascha Morris '11 to find out! Contact Rynnett Clark at
clarkr@hendrix.edu
by Wednesday, Oct. 6 at noon to schedule an individual meeting on Friday, Oct. 8 between 1-4 p.m.

Don't miss this upcoming campus event! Via the Windgate Museum: "Please join us on Wednesday October 6th at 7pm for An Evening with Nikky Finney, in partnership with the Hendrix-Murphy Foundation and in conjunction with our fall exhibition, Southbound: Photographs of and about the New South. Nikky Finney will give an online public lecture about her poetry in response to photographs in the exhibitions. Finney has won the National Book Award for Poetry for her work, Head Off & Split. Reserve your virtual seat by emailing
windgatemuseum@hendrix.edu
!"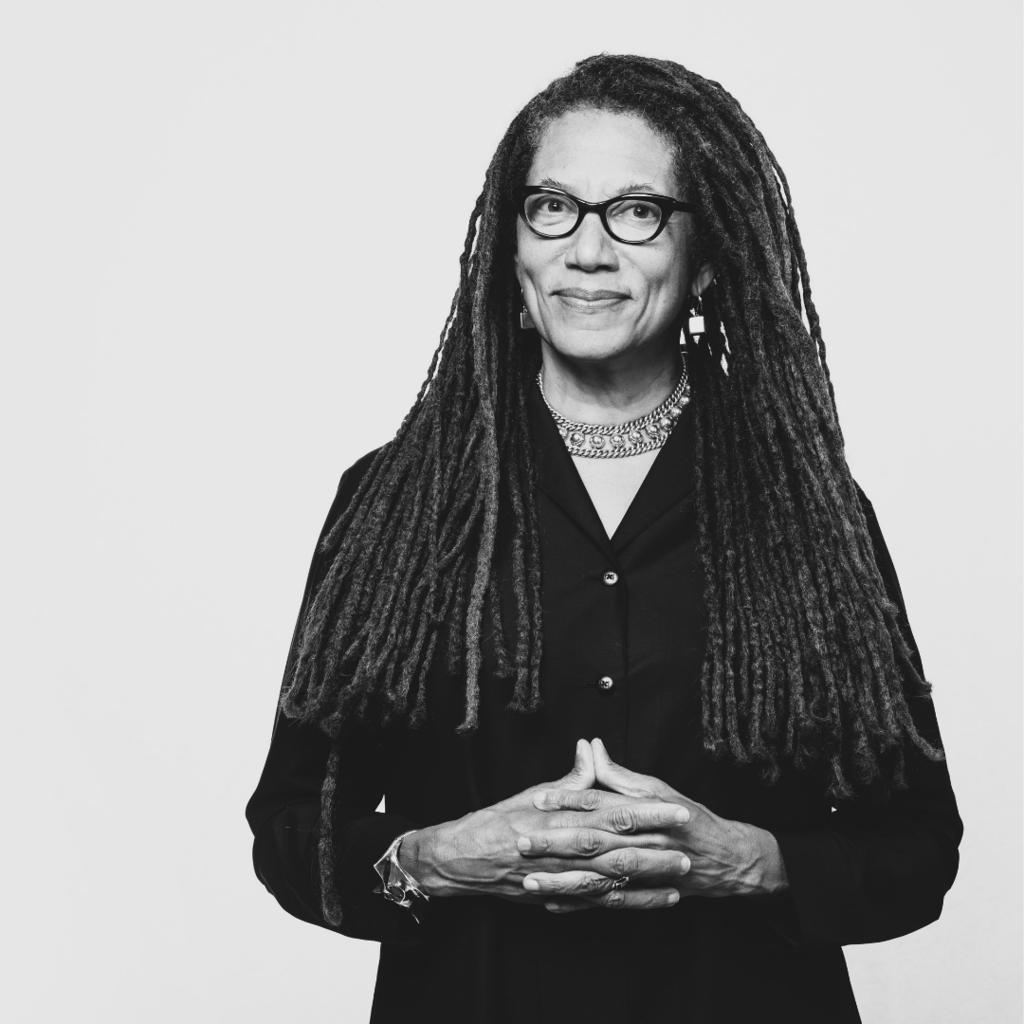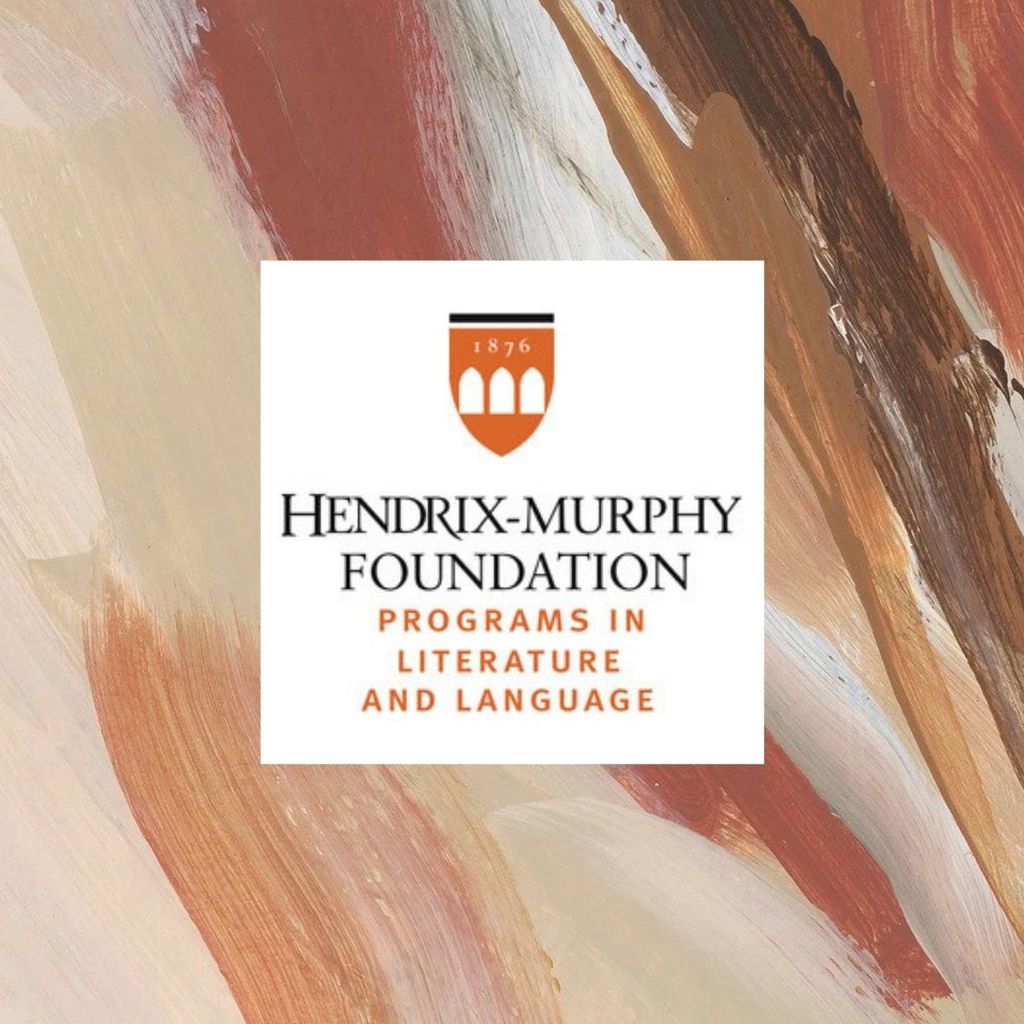 In remembrance of the 80th anniversary of the Babi Yar massacre, Prof. Dorian Stuber and Julia Dasbach, Fellow in poetry, hosted "Reading & Writing the Unwitnessable," a literary introduction to the event. Dasbach calls the night "a beautiful, difficult, and meaningful evening."

Congratulations to Henryetta Vanaman, retiring today after 19 years at the Hendrix-Murphy Foundation! As Program Manager, she arranged countless visits by literary scholars, writers, and theatre directors, organized receptions, lunches, and dinners, coached student publicity interns and student caterers, and wrangled many a special event, from round-the-table readings to poetry recitations. We wish you all the best in your new chapter of life, Henryetta. We'll miss you! #murphyscholars #murphyscholarsinlitandlang #literatureandlanguage #hendrixcollege #hendrix #behendrix #bookish #literature #language #litandlang #MurphyScholars #multidisciplinary #liberalarts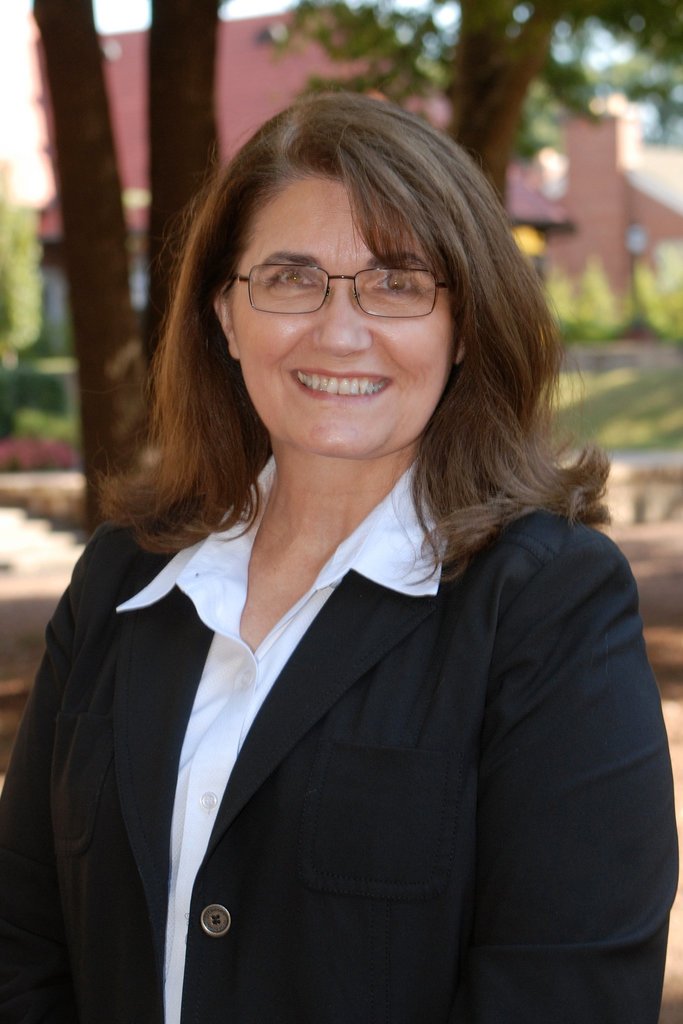 We're hiring! Hendrix-Murphy is looking for a Communication and Events Manager to oversee publicity and many aspects of our literature and language programming. For details on the position and how to apply, see
https://jobapply.page.link/9rSD
.

Hendrix is well represented in the latest issue of the Oxford American! It features pieces by Dorian Stuber, Professor of English, and Frederick McKindra, Hendrix-Murphy Writer-in-Residence. In his piece "Cutting Across Lines," Stuber writes about "teaching Holocaust literature in Arkansas." Meanwhile, in his piece "Finding a Home Behind the Counter," McKindra writes about his time at WordsWorth, an independent bookstore in his hometown of Little Rock. You can read their full articles at linktr.ee/HendrixMurphyFoundation.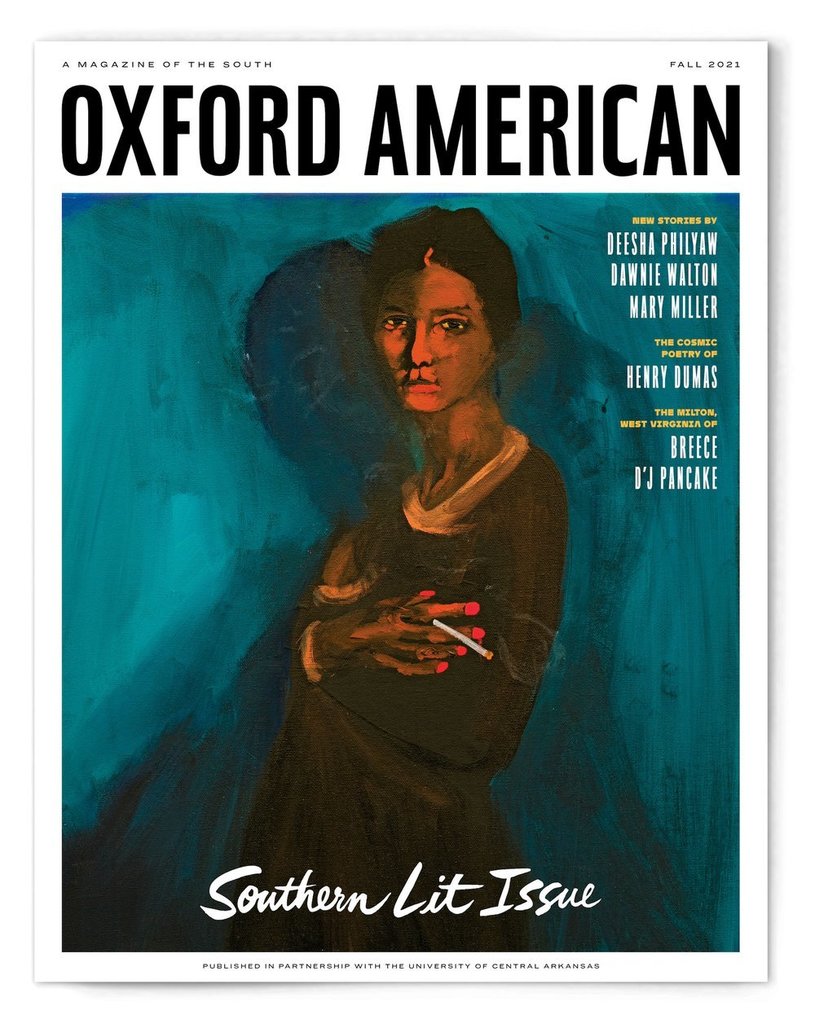 We are so glad to have you back on campus. From everyone here at Hendrix-Murphy, we hope you have a great year-- which means attending some Murphy events! If you don't already follow us on all our social media, visit linktr.ee/HendrixMurphyFoundation for details on how to join us!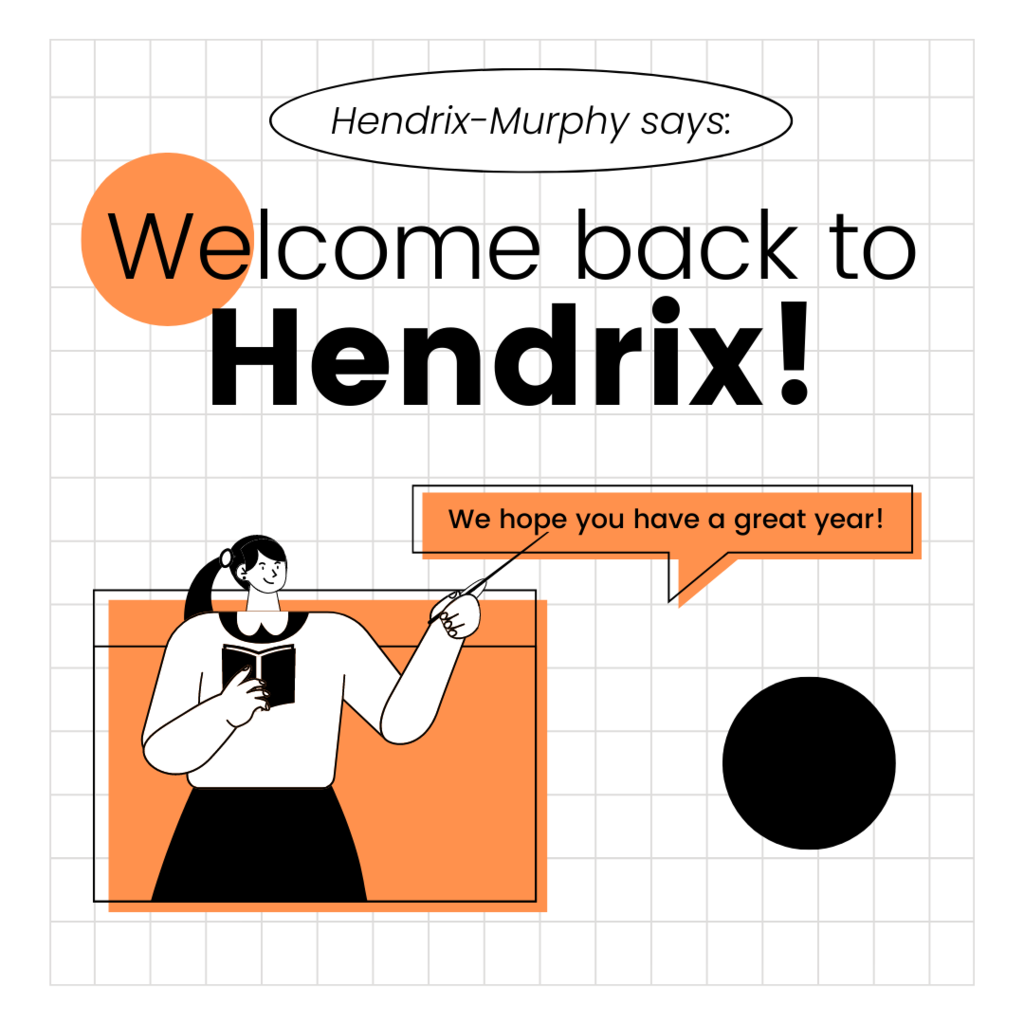 Are you a sophomore or junior interested in working for Hendrix-Murphy? Look no further! Apply today on HireHendrix using the link in our bio. Positions include Event Planning Associate, Events Assistant, and Communications Associate. For more information on these positions, contact
schneidert@hendrix.edu
.

Murphy Visiting Fellow in Theatre Andy Vaught is a playwright, performer, producer and professor hailing from Southeast Louisiana. After graduating from Kenyon College and apprenticing at the Arden Theatre in Philadelphia, he returned to New Orleans, where he co-founded and served as the artistic director of the Cripple Creek Theatre Company, which Andy describes as "an anarcho-syndicalist ensemble." Having earned an M.F.A. from the University of New Orleans, he moved north to Hendrix. Now in his fourth year as a Murphy Visiting Fellow, he teaches courses in Playwriting, Acting, Shakespeare, and the Practical History of Comedy. He is currently curating 𝘛𝘩𝘦 𝘛𝘩𝘦𝘢𝘵𝘦𝘳 𝘰𝘧 𝘵𝘩𝘦 𝘈𝘪𝘳, an aural collaboration of Arkansans, excavating the progressive history of the state. Andy appreciates "the support that the Hendrix-Murphy Foundation provides. We are encouraged to envision experiences with ambition and are bolstered throughout the process by such an amazing staff."

Murphy Visiting Fellow in Poetry Dr. Julia Kolchinsky Dasbach emigrated from Ukraine as a Jewish refugee when she was six years old. She is the author of three poetry collections, and her poems have appeared in POETRY, Blackbird, American Poetry Review, and The Nation, among others. She holds a BA from the University of Maryland, an MFA from the University of Oregon, and a Ph.D. in Comparative Literature & Literary Theory, which she earned earlier this year from the University of Pennsylvania. Her hybrid critical-creative dissertation project looks at contemporary American poetry about the Holocaust and argues for what Dasbach terms "lyric witness" as a compositional and interpretive mode for poetry on past atrocity. Dr. Dasbach notes, "One project I am super excited to embark is the Poetry Phonebooth, where students can construct physical installations across campus that create a multisensory experience of poetry for the Hendrix community and encourage listeners to leave their own creative mark in response."