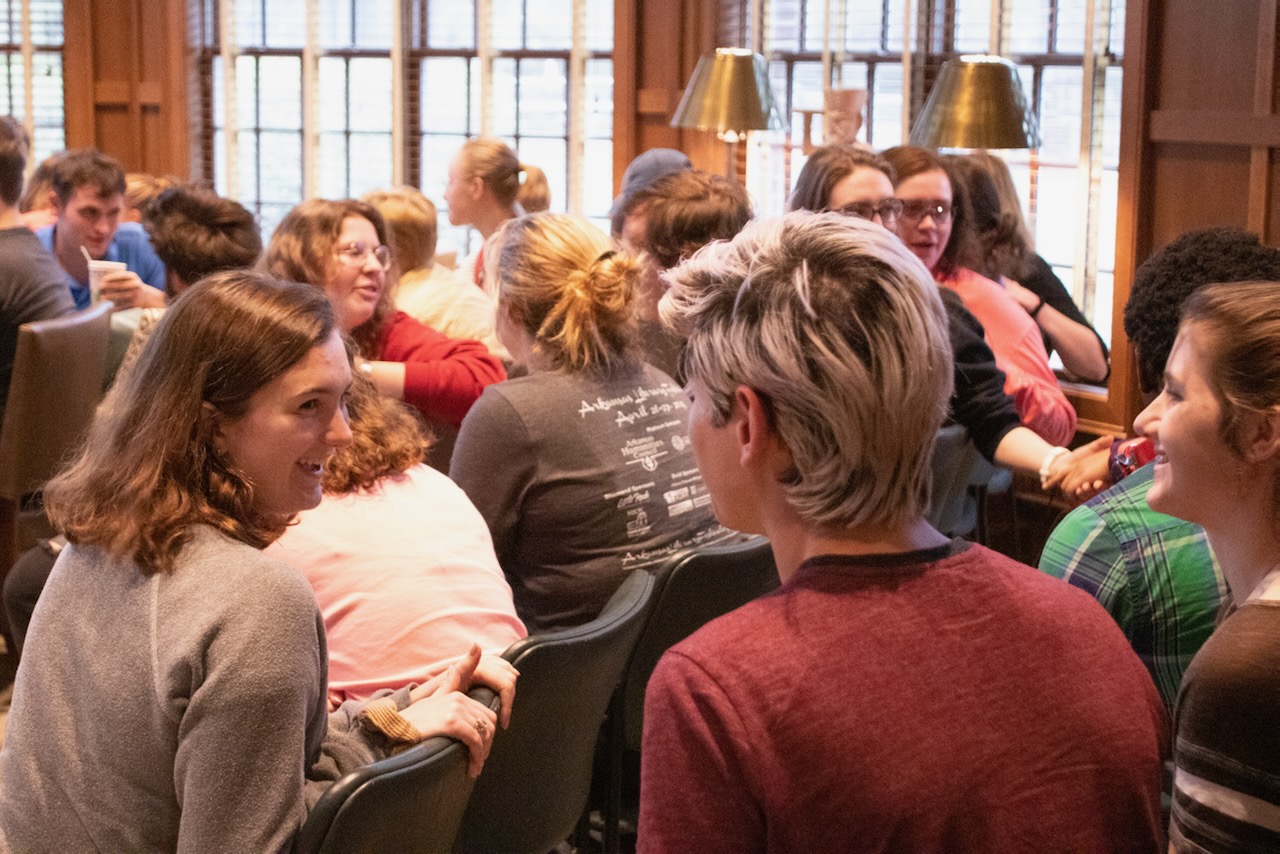 FREQUENTLY ASKED QUESTIONS
ABOUT THE MURPHY SCHOLARS PROGRAM
What are Murphy Scholars? Murphy Scholars are Hendrix students in any major who want to deepen their knowledge of literature and language through a variety of enhanced experiences.
What are the benefits of becoming a Murphy Scholar? Murphy Scholars enjoy the following benefits:
Study-Travel Allowance Funds in the amount of $4,000, to be used for approved cocurricular experiences in literature and language;

Structured ways to explore literature and language beyond the classroom;

Opportunities for in-depth exchanges with Distinguished Visitors in literature and language — writers, translators, editors, and scholars whom the program brings to campus;

Distinction upon graduation; and

The advantages of belonging to a community of scholars — including fellowship, professional preparation, and the excitement that comes from the collective investigation of literature and language.
What do Murphy Scholars have to do? When inducted into the program, Murphy Scholars commit
To participate actively in Hendrix's community of literary and language scholarship;

To complete a tutorial course in literature or language;

To complete three of the Murphy Scholar Program's approved cocurricular experiences in literature or language (many of which count for Odyssey credit, and are activities that you may already be involved in).
Who is eligible to be a Murphy Scholar? The Murphy Scholars program is currently open to Hendrix students in any major who want to deepen their knowledge of literature and language through a variety of enhanced experiences.
Only first-year students and, in certain situations, transferring sophomores may apply to the program. The application deadline is always in early February. If accepted into the program, you are inducted in March, and attend a brief New Scholar Orientation soon after.
The program sounds interesting, but I'm not an English or languages major. Can I still apply? Absolutely! The Murphy Scholars Program is intended for students from all majors. Part of the purpose is for students who are passionate about some aspect of literature or language to have access to support and resources to pursue those passions, regardless of whether they're majoring in them.
How are Murphy Scholars selected? Application requirements include a short essay and the names of two faculty members (The Engaged Citizen and Explorations instructors) whom the foundation will contact for references. The essay is relatively short, and asks you to discuss some aspect of literature or language that particularly intrigues you. The selection committee will use it to get a sense of your writing ability, intellectual curiosity, and commitment to learning, in order to get a sense of who you are and what you would contribute to the Scholars' community.
How many Murphy Scholars are there? Around thirty students are in each cohort. Thus, there are about 90 Murphy Scholars active in the program at any given time (except for a few weeks each spring between the first-years' induction and the seniors' graduation). We also have an active alumni network.
What is the purpose of the Murphy Scholars Program? The purpose of the Murphy Scholars Program is to provide Hendrix students with a distinctive, substantial opportunity to deepen their experience of language and literature in and beyond the classroom. The program aims to supply generations of Hendrix graduates with deep knowledge of and appreciation for literature and language (including reading, writing, oral expression, analysis, criticism, and world languages) that enriches their lives and careers.
What are the learning goals of the Murphy Scholars Program? The Murphy Scholars program aims for students
To broaden their knowledge of literature and language beyond what is possible in the traditional classroom setting.

To deepen their understanding of literature and language by engaging in immersive, communal, creative, and research-oriented experiences both on campus and beyond the walls of Hendrix.

To use literary and language experiences as a means of increasing their historical awareness, cultural understanding, and capacity for meaningful global citizenship.

To acquire habits of mind and practices of inquiry that allow them to connect the insights of literary and language study with other ways of understanding the world.

To develop their writing and speaking skills for use in professional, public, and personal settings, including communicating with non-specialist audiences about literature and language.

To experience literature and language as sources of lifelong learning, pleasure, and social commitment.
How are program graduates recognized? Murphy Scholars completing the program are recognized annually in the late spring at a special dinner. Distinction is conferred upon graduating Murphy Scholars in the form of transcript notation and a medal to be worn with the academic regalia.
Do Murphy Scholar experiences carry Odyssey credit? Many Murphy Scholar Cocurriculars also earn Odyssey credit--both the preapproved projects and those approved through a proposal process. In fact, a number of Murphy Scholar Cocurriculars are preapproved for Odyssey credit; a Scholar need only turn in an Odyssey Intent Form to the Odyssey Office. Otherwise, Scholars may request Odyssey credit for a given project on their Student Cocurricular proposal forms. If the project is approved for funding by Hendrix-Murphy, we secure Odyssey credit approval for it at the same time. Upon completion the Scholar will submit the standard Project Completion and Transcript Notation Form and any other required paperwork to the Odyssey Office.
I already have a lot of commitments and feel pressed for time. Is the Murphy Scholars Program for me? Only you can judge for sure. Certainly part of attending a liberal arts college is exploring various activities, from athletics to arts, which, on top of rigorous academics, can be challenging to manage. However, many of the Murphy Scholars experiences formalize support and credit for activities that you, as a person with lively literary and language interests, would be doing anyway, such as Odyssey projects, attending talks and readings, pursuing research with your professor, or tutoring. Undertaking these activities under the mantle of Murphy Scholar rather than in a scattershot way gives them added definition and depth. They become an additional, identifiable dimension of your education.
Who runs the Murphy Scholars Program? The Hendrix-Murphy Foundation director supervises the programming, with foundation staff managing day-to-day operations, including the tracking of Murphy Scholars' program credits and Study-Travel Allowance Fund. A Director's Cabinet with faculty and student representation vets all proposals and makes recommendations to an appropriate committee of the Hendrix-Murphy Foundation Board. This Board of Directors, which includes the Hendrix President and Provost, oversees all Murphy Scholars Program activities.
Does Hendrix-Murphy sponsor any opportunities for students who are not Murphy Scholars? Lots and lots! For example, the Distinguished Visitors Program still brings exceptional writers, poets, translators, theatre directors, and literary scholars to campus for both short stays and extended visits. They are proposed by faculty and selected through a proposal process designed for maximum responsiveness to campus-wide interest. Hendrix faculty and students may also propose individual projects in literature and language, from study-travel to service projects to campus-based activities, which attract participation from students across the board. Hendrix-Murphy supports a wide range of literary and language-related enrichment and enhancement activities for the College: Study Abroad Scholarships where the courses taken are predominantly literary or language-targeted; LaHeadlinenguage House; Language Commons; literary competitions; a flourishing creative writing program; and many other activities.
ABOUT MURPHY SCHOLAR COCURRICULAR PROJECTS
Can Murphy Scholars design their own experiences for Murphy Scholar Cocurricular credit? Yes. For independent cocurricular projects, Murphy Scholars must request approval from the Hendrix-Murphy Foundation by filling out a proposal form. A review panel representing the Foundation and the College will evaluate each proposal to ensure that it meets program goals and to determine funding, including expenditures from that Scholar's $4,000 Study-Travel Allowance Fund. Proposal forms and guidelines are available online. Deadlines are October 1, February 1, and April 1--the same as the Odyssey Program's.
What if I want Murphy Scholar credit for an existing activity in literature and language? Most literary and language cocurriculars that are already well established at Hendrix are preapproved for Murphy Scholar credit if you contribute at a leadership level. For these, all you have to do is certify your participation to the Murphy Scholars office by submitting a Statement of Intent at the outset and a reflection paper once that experience is finished.
I'm interested in using my Study-Travel Allowance Funds to travel. What are my options? Off-campus options for Murphy Scholars include trips for literary or language-related research, study-travel, or service and intensive language study or immersion. You can seek to join a faculty-led trip, where a group from Hendrix travels and learns together (the professors who lead those trips set the terms for participation, and Murphy Scholars, like other students, apply for those trips directly to the faculty leader). Or, you can design your own student-initiated project, where students travel and study on their own, individually or in a small group that they put together. For individually designed off-campus experiences, Murphy Scholars must submit a Student Cocurricular Project proposal so that their trip plans, learning objectives, and budget details can be formally approved.
Then there's the model that is officially known as "study abroad," which entails enrolling for a semester or two at a foreign university, for academic credit. For this you must go through Hendrix's Study Abroad Office. Once you're approved through the college's general process for study abroad, there are ways that Hendrix-Murphy Foundation support can enter the picture. First, if 50% or more of your planned coursework qualifies in our terms as literature or language, you may apply for a Murphy Study Abroad Scholarship. Despite the similar name, this is not part of the Murphy Scholars Program! However, Murphy Scholars who are awarded this kind of assistance may use their Scholar funds to pay for related expenses that are not covered by the study abroad package.
I'm interested in doing service projects or community engagement work that relates to literature and language. What are the possibilities? Murphy Scholars are encouraged to give back to Hendrix and the wider community through service in literature and language. Examples include
Tutoring in writing, literature, or language

Teaching writing classes

Working as a Writing Associate at the Writing Center

Serving as a writing assistant for a professor (you must be tutoring in discipline-related writing, not in course content)

Volunteering at a school, hospital, retirement center, or the like in some literary or language capacity (such as running a writing or storytelling group, or serving as translator or interpreter)

Starting and running a literary or language outlet for the underserved, such as a Bookmobile or creative writing group

Tutoring in an adult literacy program

Reading to or recording for the visually impaired
I want to work as a Writing Associate in the Writing Center. Can I receive Murphy Scholar credit for work-study experiences or other paid work?
Absolutely! Work in the Writing Center is one of many campus activities that are preapproved for Murphy Scholar credit. Other paid work may also count, as long as it relates to language and literature. Check with program staff to see whether your work is preapproved for Murphy Scholar credit. If not, you can submit a Student Cocurricular proposal form.