The annual Aonian Literary & Arts Magazine release and reception will be Thursday, April 28 at 4:30 PM in the Murphy House Seminar Room. Enjoy refreshments and readings by this year's winners. All are welcome!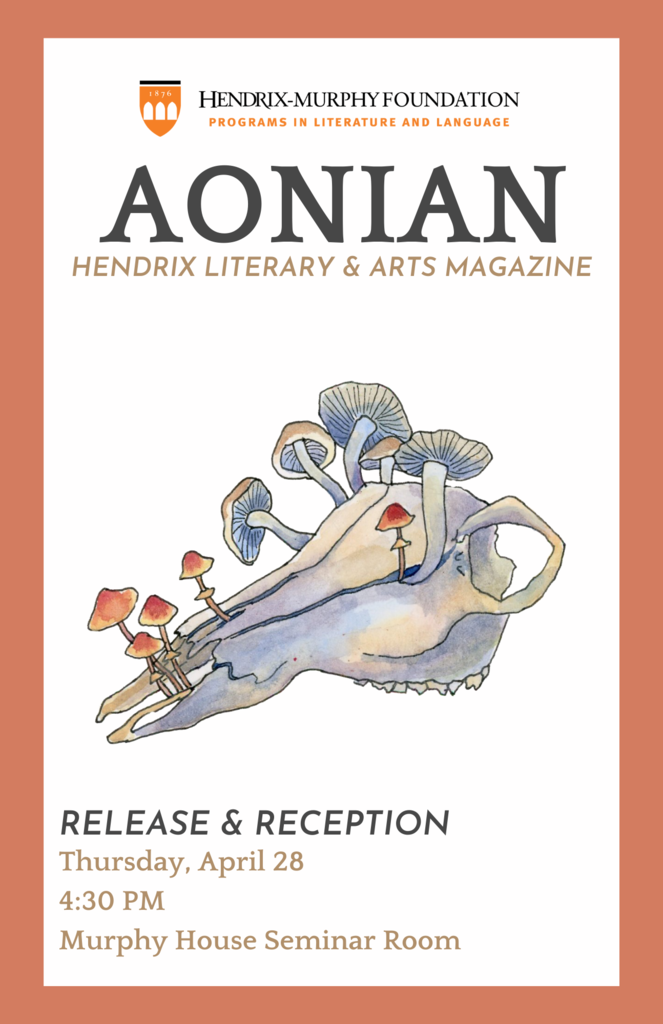 Join us for the Senior Word Garden Potluck on Thursday, April 21 at 5 P.M. at the Murphy House Lawn. Dani Kuntz, Annemarie Bennett, Tristam Williams Thompson, Savanna Bader, and Josiah Vallone will read original works in poetry and prose from their English-Creative Writing senior theses. Layla's Gyros and Pizzeria will cater food—feel free to bring side dishes! All are welcome.

Join us for the first of two Senior Word Gardens on Thursday, April 14 at 8 P.M. in the Murphy House Seminar Room. Sarah Ward, Flannery Hirrel, and Gabrielle Skerpan will read original works in poetry and prose from their English-Creative Writing senior theses. All are welcome!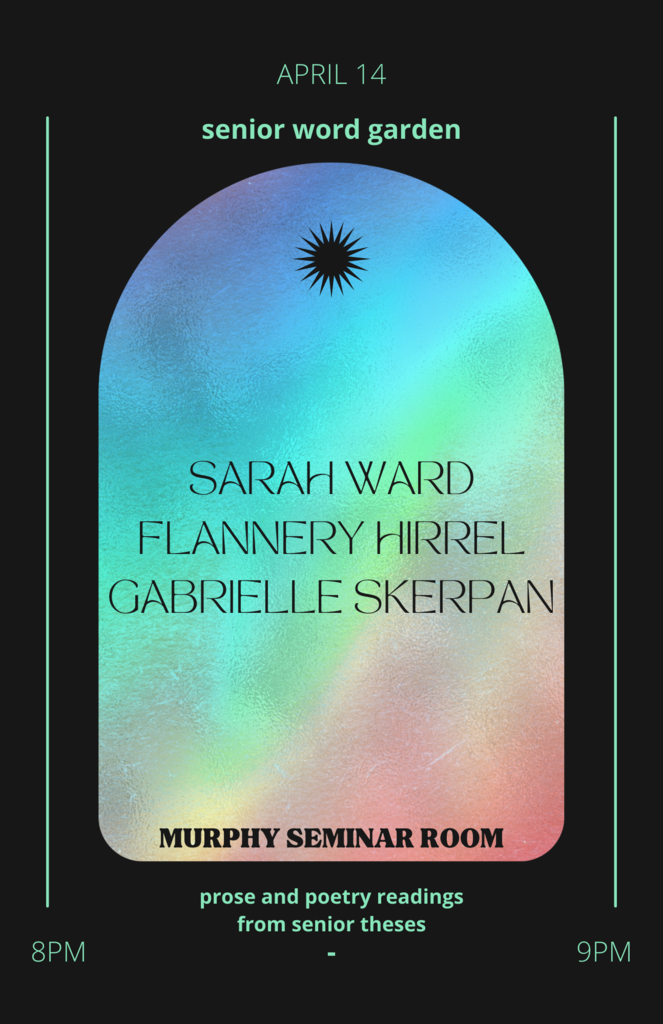 Hendrix alumna Kate Henricks '16 is the co-founder of the Glitterary Festival—a literary festival with a broad definition of what is literature and what is queer. Glitterary will be hosted in Oxford, Mississippi, as part of Oxford Pride Week. Registration is free and comes with a drink ticket for happy hour. To register, visit
https://bit.ly/3K3meMi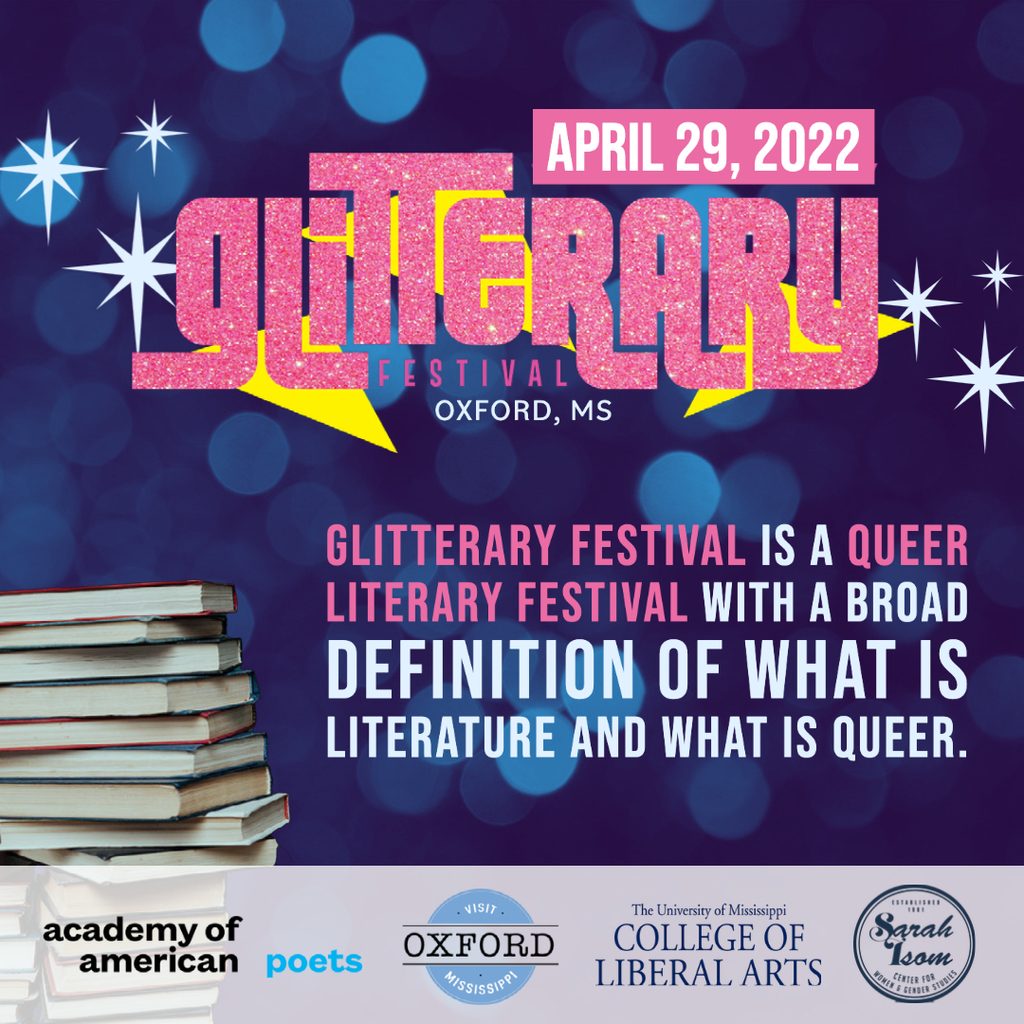 Where do you turn when life abroad doesn't look anything like the glowing images in the brochures? Join senior Murphy Scholars on Friday, April 8 from 12:10-1 p.m. in the Murphy Seminar Room for a discussion on meeting challenges while studying internationally.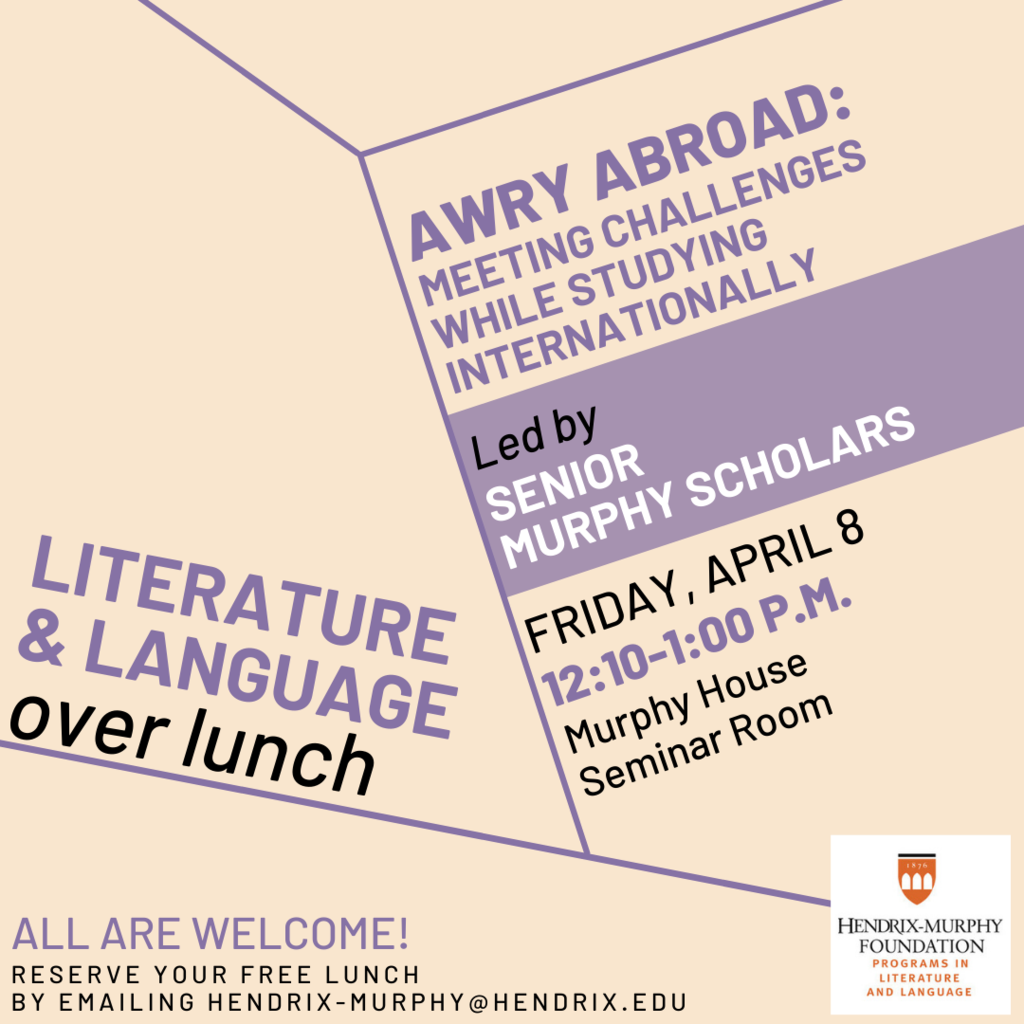 Join us on Friday, April 8, at 7:30 p.m. in Cabe Theatre for dramatic works written and directed by Elizabeth Yang, Phillip Powell, and Jay Vicente. 4-H is an immersive, collaborative workshop designed to foster the dramatic work of four Hendrix students from page to the stage and is led by Murphy Visiting Fellow in Theatre Arts and Dance Andrew Vaught.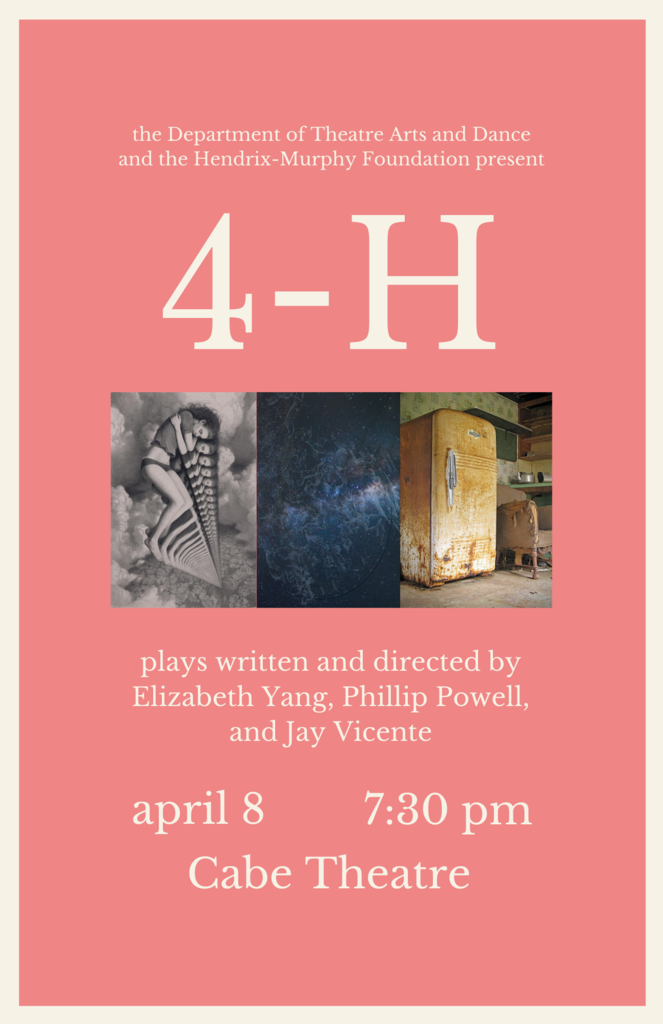 Do you have an idea for a project that involves literature or language? Apply to Hendrix-Murphy for funding for projects anchored in study, travel, research, or service in literature and language. Stop by our Proposal Help and Information Session: Tuesday 3/15 from 11:30-12:30 in the Murphy Seminar Room. Pizza will be provided! Submit final proposals to
Hendrix-Murphy@hendrix.edu
by 4/1. Visit
https://bit.ly/3sVvMTI
for more information.

Thanks to everyone who came out last night for the first Word Garden of the semester! Arielle Shelby, Kaleigh Coker, Sydney Boone, and Aubrey French all read from their original creative work.

Join us for the first Word Garden of the year on Thursday, March 3 at 8 P.M. in the Murphy House Seminar Room. Arielle Shelby, Aubrey French, Kaleigh Coker, and Sydney Boone will be reading original works in poetry, prose, and nonfiction. All are welcome!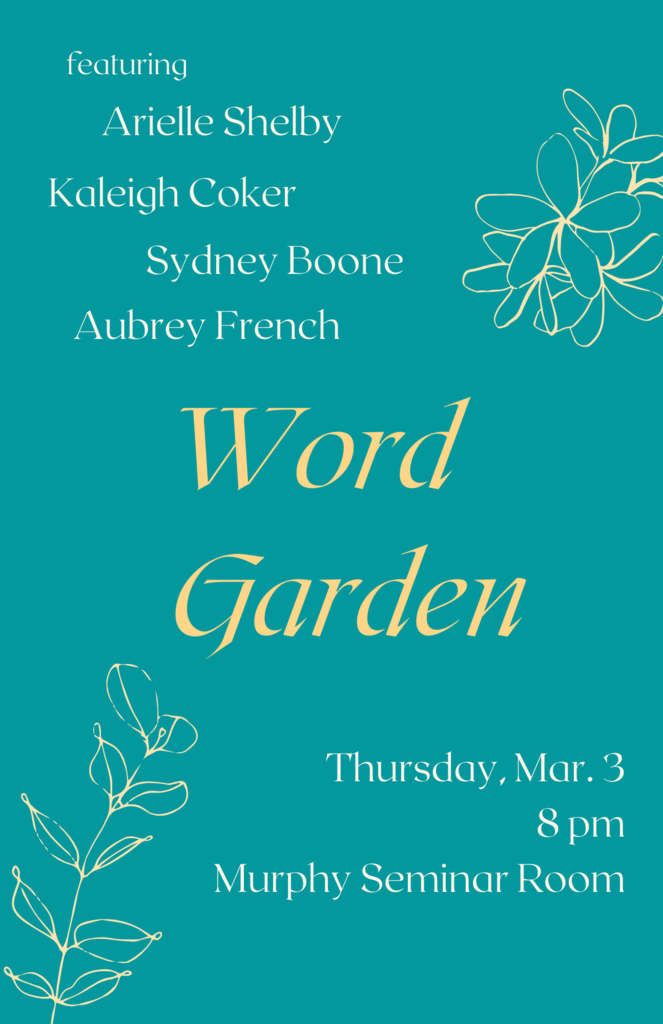 Join us on Monday, February 28 from 12:10-1:30 in the Murphy Seminar Room for fiction writer James Braziel's and poet Tina Mozelle Braziel's ShopTalk. They will discuss ways to weave nature into stories and poems. Through sharing examples of their work, writing processes, and life in the woods of Alabama, they will also explore how to create a sustainable writing life.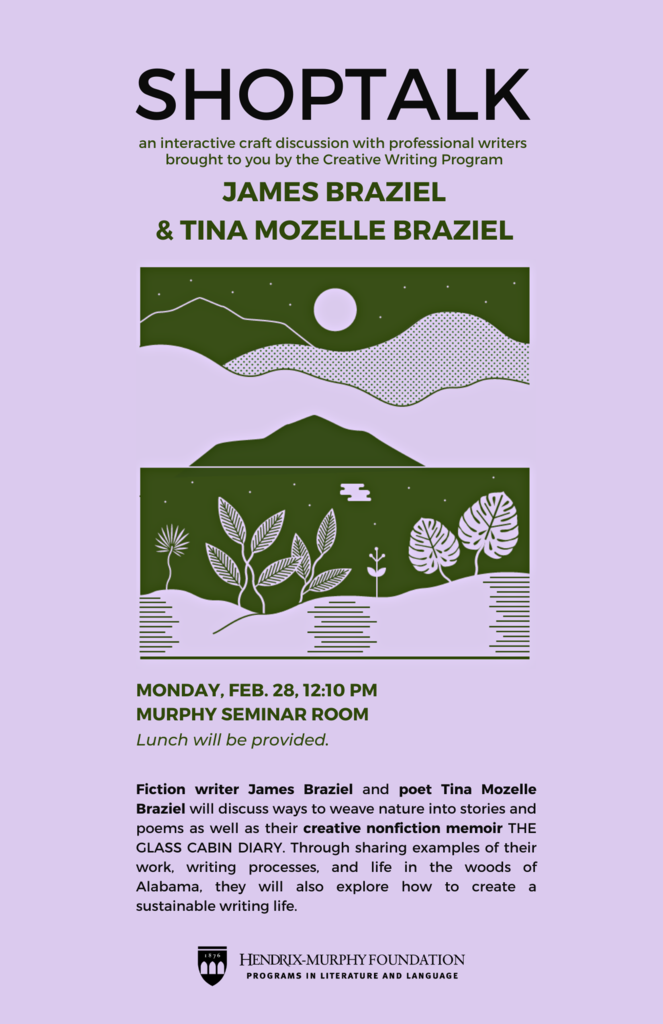 Hendrix faculty member Dr. José Vilahomat, Professor of Spanish, has published a new book titled Satire and Minor Genres: Notes on Contemporary Latin American Literature. This work is a result of two decades of research and is geared towards Latin-Americanist researchers and literary critics. Read more:
https://www.hendrix.edu/vilahomat-publishes-new-book/

Join the Hendrix-Murphy Foundation on Wednesday, November 10 from 7 - 8 p.m. for An Evening with Mayda del Valle. Born and reared on the South Side of Chicago, Mayda del Valle was the youngest poet and the first Latinx person to win the Grand Slam Championship at the Nuyorican Poets Café in 2001, and went on to become the National Poetry Slam Champion in the same year. She is the author of the poetry collections A South Side Girl's Guide to Love and Sex and The University of Hip-Hop, and her work has also appeared in numerous publications, from Urban Latino to The New York Times. Del Valle has performed at venues across the world, including the White House, by invitation of President Obama and the First Lady, in May 2009. She has served as a mentor and educator in the nonprofit world, teaching poetry and performance to incarcerated youth. Co-sponsored with The Engaged Citizen program. Del Valle's performance will be held in Worsham Performance Hall on Hendrix College campus.

Assistant Professor of English Will Murray is hosting Friday's Literature and Language Over Lunch! Reserve your spot by emailing
Hendrix-Murphy@hendrix.edu
to hear his talk, "Healing the Wound: Race and Memory in Southern Fiction." Lunch provided. Vegetarian options available!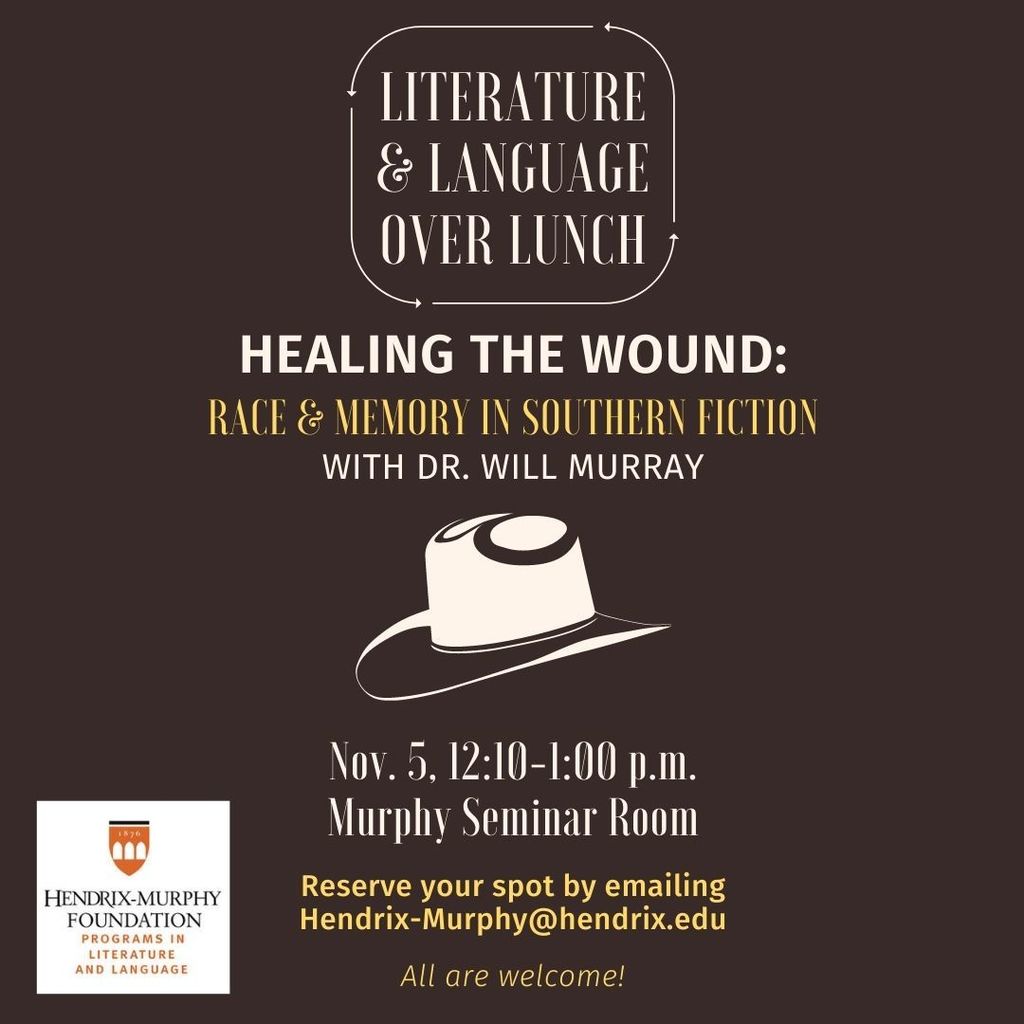 Students! Join us this Thursday, Nov 4 from 8 to 9 p.m. for Word Garden. This month's reading features Logan Ingram, Alysse Robinson, Anna Bivens, and Nat Hart with Clementine Jensen presenting original works of poetry, fiction, and creative nonfiction. All are welcome!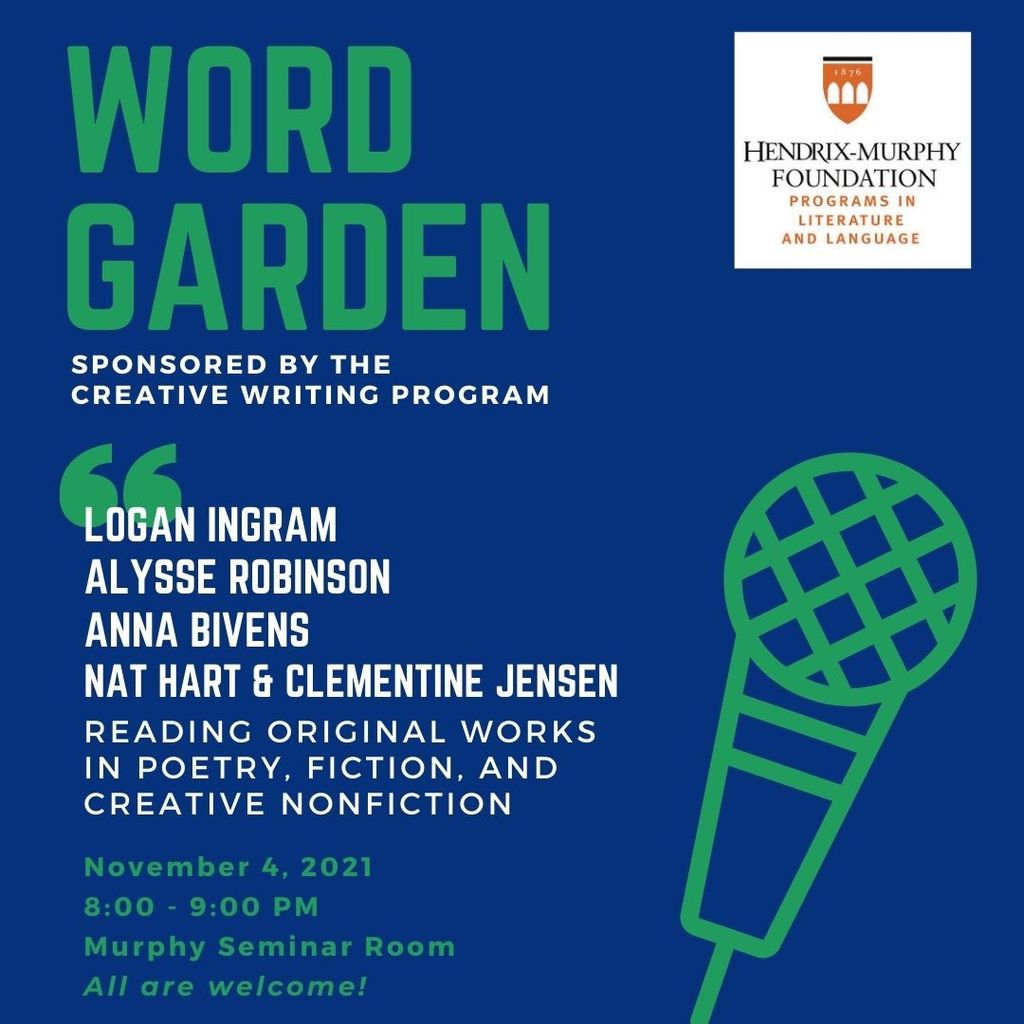 Join Hendrix-Murphy and the Organization for Latino Expressions for a special two-day event celebrating Dia de los Muertos! To reserve your spot and learn more about the event, go to
https://bit.ly/2ZtyuUr
or email
yuste-alonso@hendrix.edu
.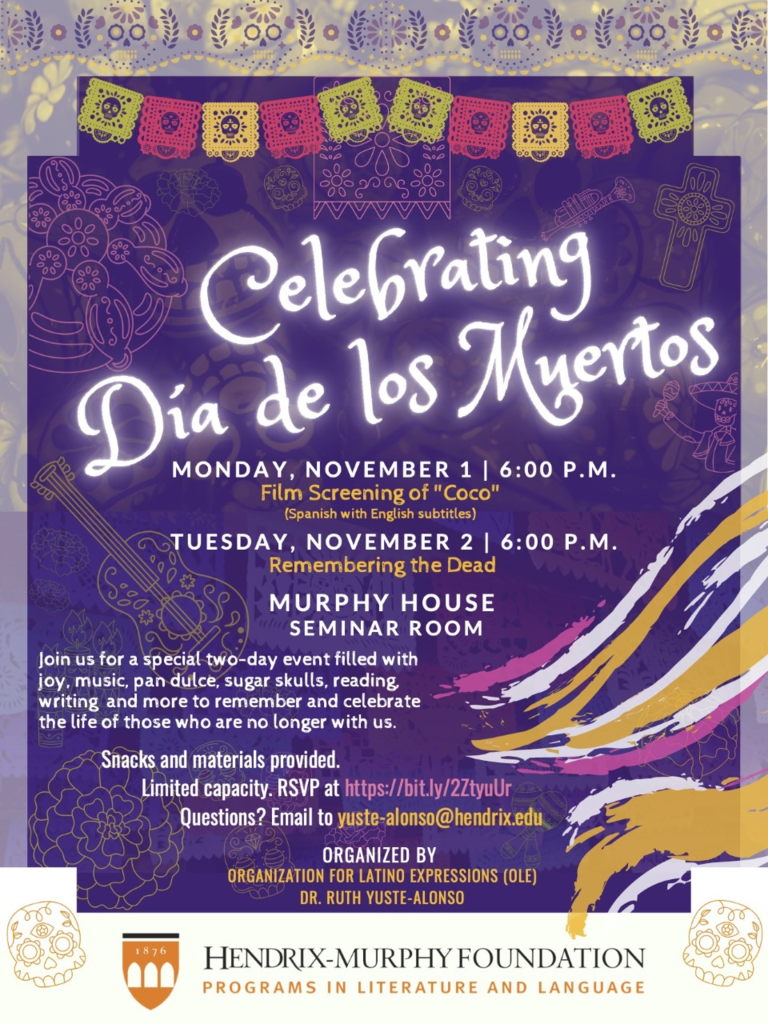 Students, don't miss our upcoming Literature and Language Over Lunch with National Geographic writer and editor duo, Mel White and Lynn Addison! Email
Hendrix-Murphy@hendrix.edu
to reserve your spot this Friday, Oct 29.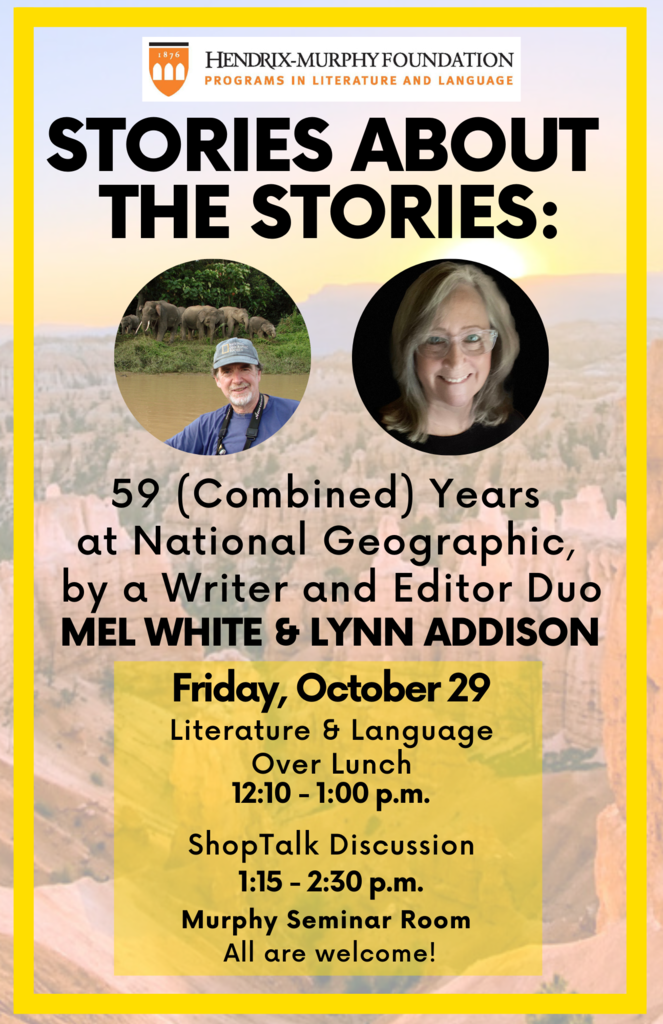 We are hiring! Hendrix-Murphy is looking for a Visiting Fellow in Literature and Language for Theatre Arts (Playwriting). For details on the position and how to apply, see
https://jobapply.page.link/du99
.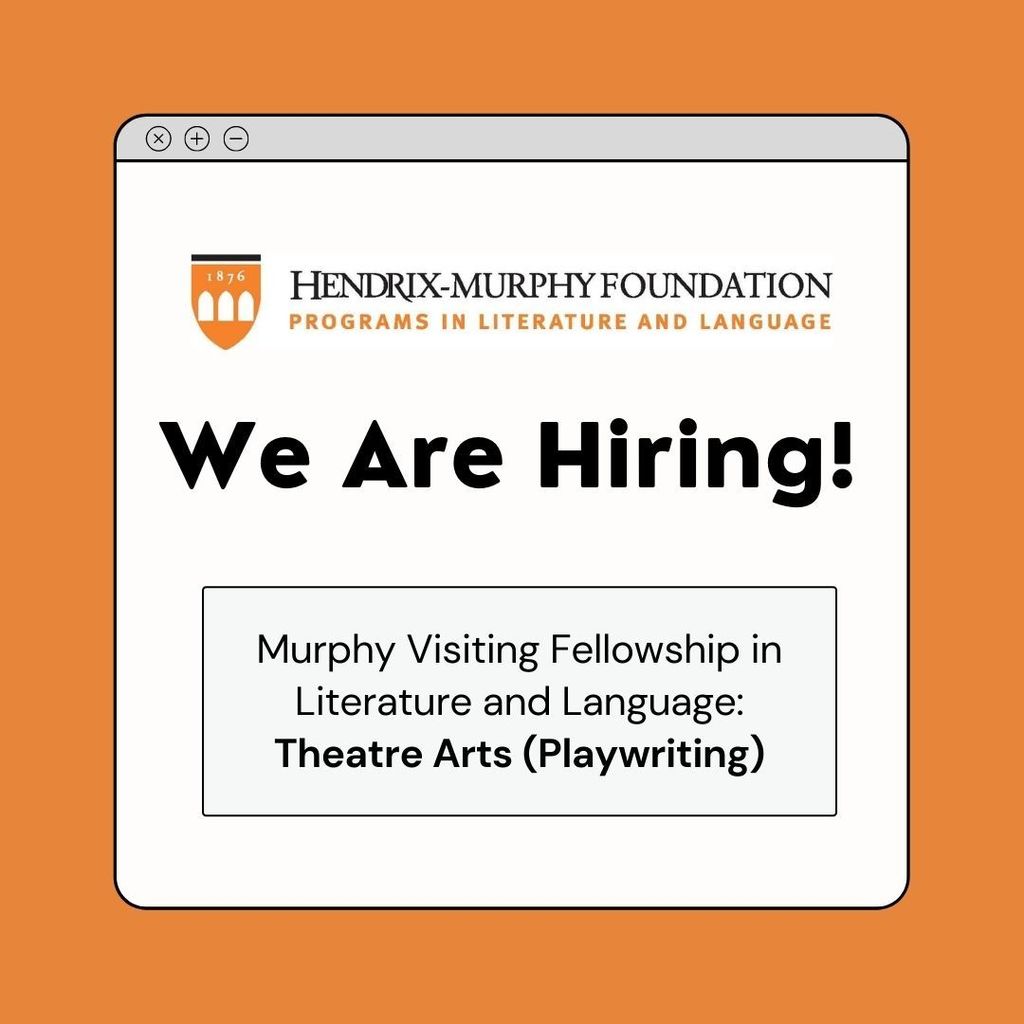 Join us on Tuesday, October 26, at 7:30 p.m. in Reves Recital Hall for An Evening with Writer-in-Residence Frederick McKindra. McKindra is an essayist and fiction writer who lives in Little Rock, Arkansas. He attended Howard University and holds an MFA in Fiction Writing from The New School in New York City. McKindra, who was named a Buzzfeed Emerging Writer Fellow in 2017, often writes about the Black and LGBTQ+ experience in the American South, and his writing appears in the Oxford American, Lambda Literary, and Buzzfeed. In Fall 2021, as Hendrix's Writer-in-Residence, he is teaching a course on personal essay writing for the web.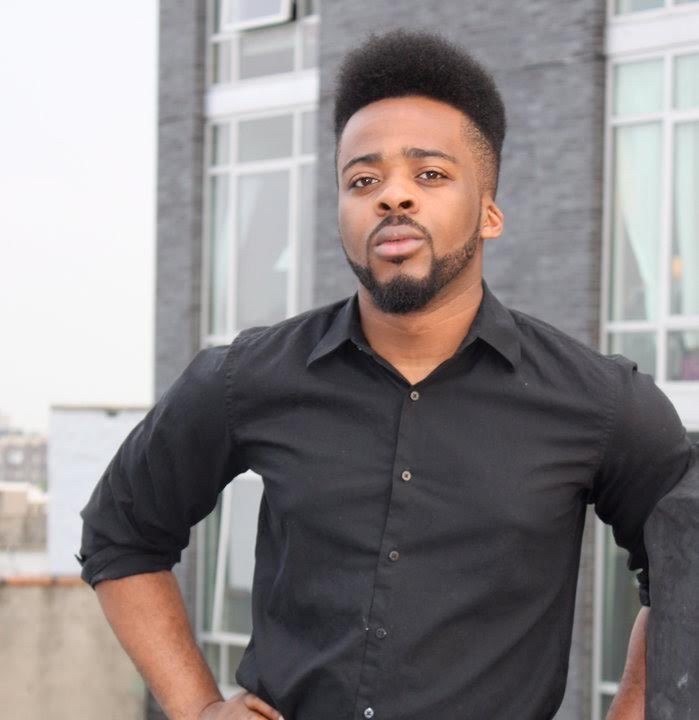 Earlier this month, Hendrix-Murphy hosted its first Word Garden of the semester! Thank you to our student readers Colin Jenkins, Hannah Samuel, Grace Durand, and Peter Grant along with all those who attended to celebrate these student works.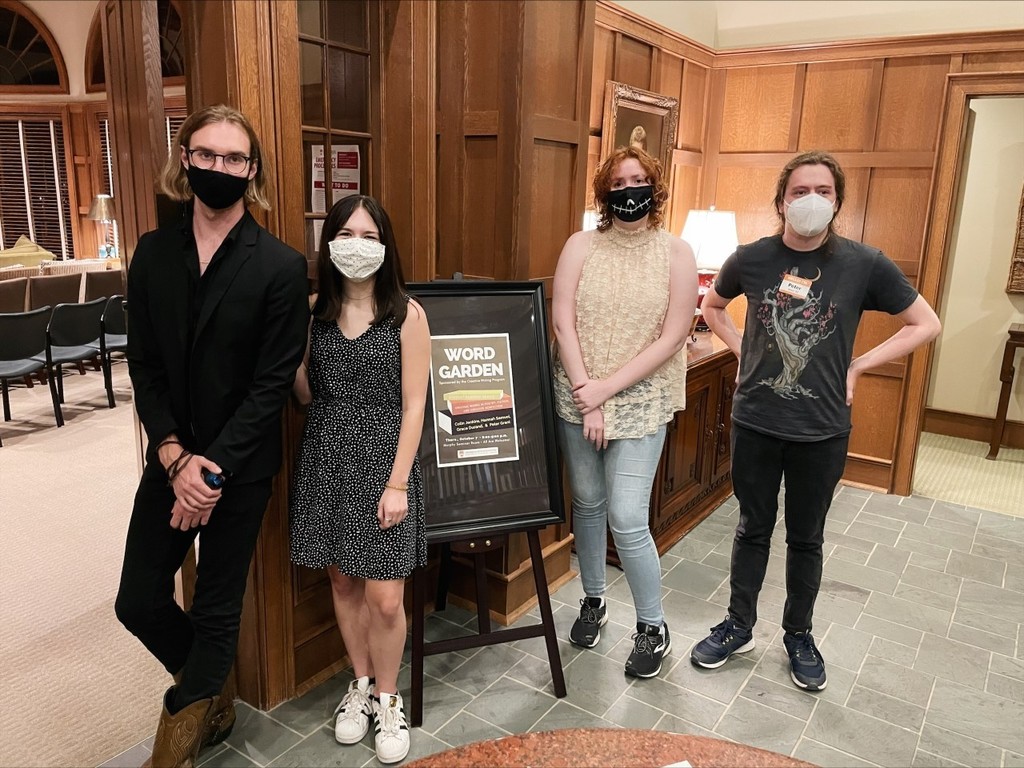 Interested in English graduate programs? Hendrix College Career Services is hosting the University of Arkansas to discuss their program this Thursday, October 21, from 11:00 a.m. - 1:00 p.m..