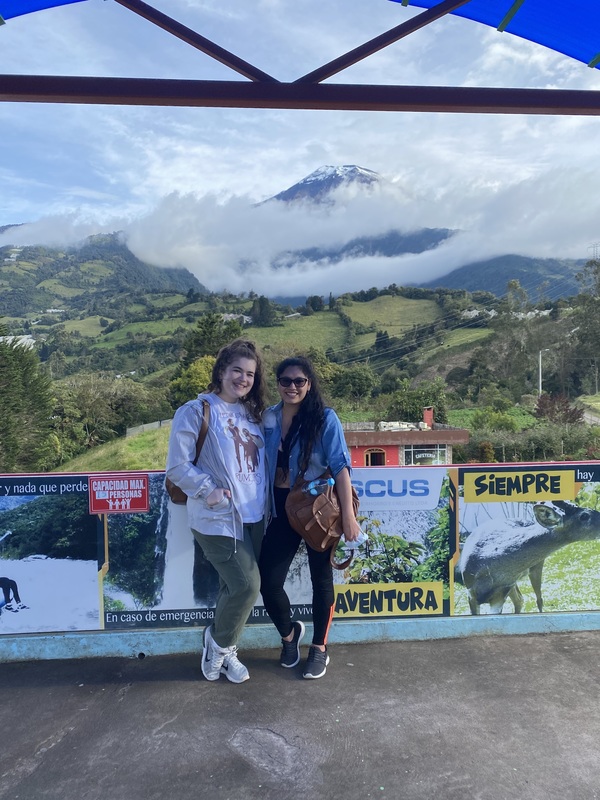 This spring, Murphy Scholar Sophia Isely graduated summa cum laude with distinction in two majors—Neuroscience and Spanish—as well as distinction in Odyssey. She completed five Murphy Scholar projects, each of which she used as an opportunity to expand her experiences in language learning and the medical field. Isely began her interdisciplinary projects during the summer of 2021 in Riobamba, Ecuador, at the Cacha Medical Spanish Institute, or Cachasmi—a nonprofit organization that offers medical Spanish lessons, international clinical rotations, and volunteer opportunities for participants.
"My days started at about six in the morning," Isely said. "I was awoken by the sound of the clunky radio system in the hallway. My ears soon filled with the sounds of traditional Ecuadorian music since my host mother always opted out of the grim news stations to start our day." After a traditional Ecuadorian breakfast with her host mother, Isely would spend the next few hours of her day at local healthcare clinic, Centro de Salud Espoch Lizarzaburu.
"To be entirely candid, there was a moment where I was sitting next to the physician where I felt completely lost and hopeless, not understanding their Spanish," Isely said. "In that moment, I had a vital realization that this experience was sink or swim. If I was going to be performing subpar and carelessly, I might as well get on a plane and return to Arkansas."
From that moment on, Isely was fervent in her Spanish studies, and by the end of her program in Ecuador, she was "capable of communicating and genuinely understanding the symptoms and diagnoses of the medical cases in front of [her]."
Back on Hendrix's campus, Isely participated in the Narrative Medicine reading group. Each month the group read a piece of literature that explored medicine from the perspectives of doctors, patients, caregivers, or loved ones of patients.
"Many times, our meetings began right as I finished my shift at a urology clinic in Little Rock," Isely said. "It created a curious dynamic in which I would be directly immersed in eight straight hours of medicine, with myself being part of the medical team, and then proceeding to reflect upon narrative medicine for the next hour or two."
Through the Narrative Medicine reading group, Isely was reminded that "medicine is not simply a science-based field—it is a discipline full of humanity. It involves both the biochemical reactions within the body and also the emotional and personal experiences surrounding health."
The next summer, Isely traveled to Spain with the Hendrix-in-Madrid program. Unfortunately, after arriving in Madrid, Isely had to be taken to a local doctor after falling sick.
"This experience was a deep moment of growth for me," Isely said. "I had never had the experience of being a patient with a physician who did not speak my language. Tears welled in my eyes, despite knowing that I knew exactly how to describe my symptoms from all my training and courses."
Upon reflection, Isely realized this experience is commonplace for non-English speaking patients in the United States. "Communication is not only vital to be able to articulate my symptoms and situation, but it also was necessary for me to feel comfortable—which I feel is not discussed enough in the healthcare setting," she said.
"I personally believe communication is one of the most important parts of a physician-patient relationship," Isely said. "I am absolutely thrilled that through my Murphy Scholar projects I was able to grow a specific skillset that will allow me to comfortably correspond with my future Latinx and Spanish-speaking patients."
Be on the lookout for more Murphy Scholar profiles this summer. Visit the Murphy Scholars Program page on our website to learn more about the program and study travel opportunities.