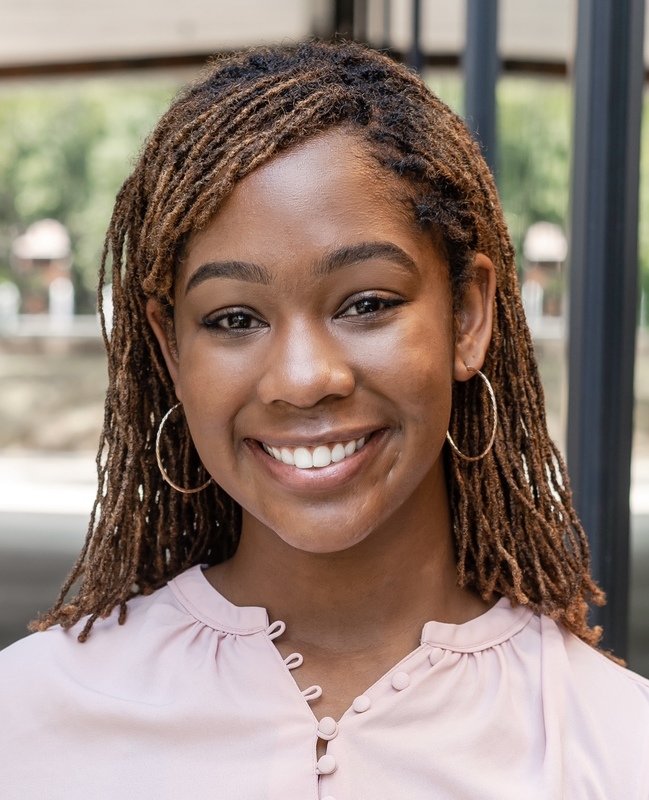 National award-winning artist and Murphy Scholar Adaja Cooper '23 has been an avid reader and creator from a young age. With a published coloring book featuring history-making Black Arkansans already on her resumé, Cooper used her Murphy Scholar funds to further her writing and illustrating aspirations by attending the Society of Children's Book Writers and Illustrators Conference in Tulsa, Oklahoma, last April.
"The air was electric with excitement and anticipation to celebrate the art of storytelling," Cooper said. "It was truly a gathering of literary minds, a melting pot of diverse backgrounds and perspectives united by a shared love for nurturing young imaginations."
Over the course of the conference, Cooper attended panels on various aspects of the children's book industry. "From crafting compelling characters to navigating the publishing process, each session was a source of wisdom and practical advice," Cooper said. "These interactions invigorated my own aspirations as a writer and illustrator."
One of the many ways in which Cooper was involved on campus was serving as a co-organizer with Lily Ryall '24 for the Murphy-sponsored reading group Revolutionary Reads. Revolutionary Reads was started in 2020 by Hendrix alums Christian Maddox '22 and Graham Cifelli '21. "The goal of the book club is to facilitate discussions around literary books that focus on history, liberation, and activism," Cooper said. "We talk about their relevancy in our current society and how to use the messages in the text to confront issues of racism, classism, and sexism."
"During my four years at Hendrix, I have been guided and inspired by passionate mentors and visiting writers who strive to cultivate a deep and personal connection with literature and language," Cooper said. "The Hendrix-Murphy Foundation recognizes the significance of fostering a love for literature, and this has helped nurture my passion."
Cooper graduated with a major in studio art and a minor in business in spring 2023. She was recently named a Watson Fellow for her project "Power, Preservation and Activism in Art." The Thomas J. Watson Fellowship is a one-year grant for purposeful, independent exploration outside the United States, awarded to graduating seniors nominated by one of 41 partner institutions. Cooper will travel to England, Northern Ireland, Senegal, Mexico, and Italy to study how public art's role—its expression, preservation, and protest forms—differs across cultures.
Adaja, best wishes for a safe, happy, and fulfilling journey!
Be on the lookout for more Murphy Scholar profiles this summer. Visit the Murphy Scholars Program page on our to learn more about the program and study travel opportunities.
Photos provided by Adaja Cooper.